Employee interview: Jolande, bouquet department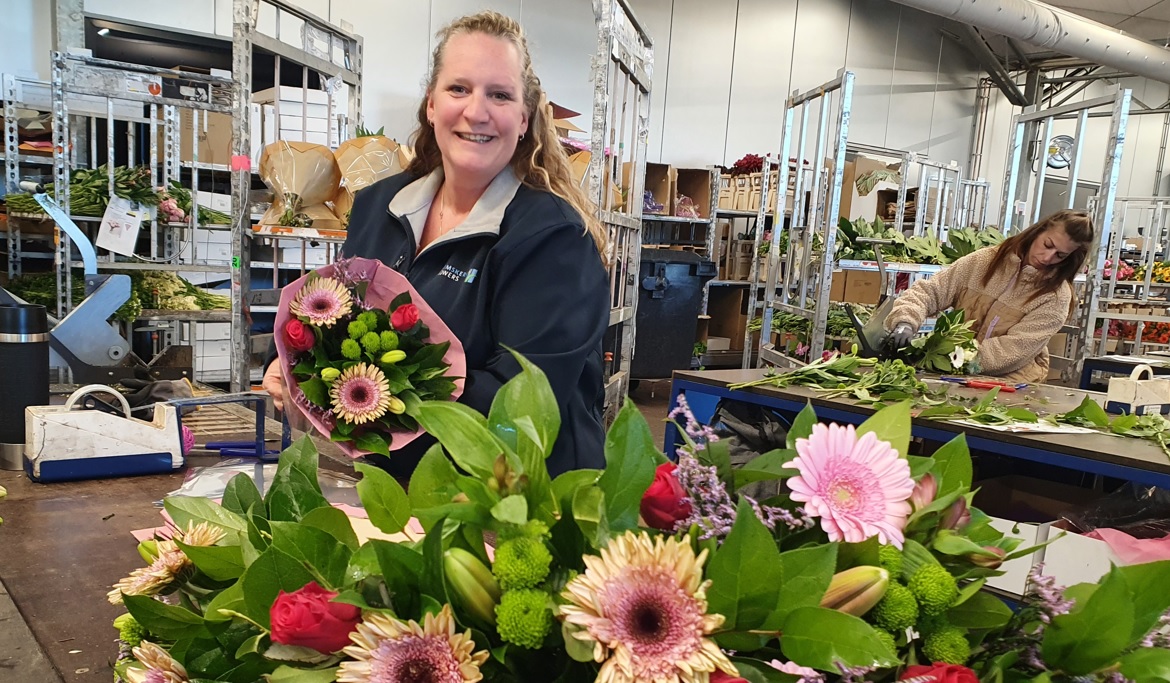 Jolande, bouquet department
This month we're chatting to Jolande: a cheerful lady who has worked in various departments, and now feels right at home in the bouquet workshop. She creates beautiful bouquets four days a week. Along with her husband, who is often away at sea, she also manages a household with two children, a dog and a cat. Jolande thinks this is easy to do when working at Heemskerk Flowers. You can read more about this in the interview below.
How did you end up at Heemskerk Flowers?
About five years ago I was out of work, and I spoke to (my now colleague) Dennis Kormhout on the touchline at football. I knew that he worked at Heemskerk Flowers, and because I'm very direct I asked him whether they were looking for any staff. They were, so I could start straightaway in the breeding department.
How was your journey through the different departments?
I soon moved from breeding to the packing department. My colleague Henk Haasnoot heard that I knew about flowers, and that's handy in the packing department. So I went to do packing - which was fun work with a great team! I also enjoyed the work because we could enjoy a little outing from time to time to the chiller or to the plant department in order to pick orders, which made it nice and varied.
After a number of years in the packing department, I got chatting to Roos Heemkerk outside during my break, and I mentioned that I can also make bouquets and enjoy it. She arranged for me to be transferred to the bouquet workshop, where I have now been working for two years. Of all the jobs I've had within the company, I most enjoy creating bouquets. The work is always the same, but each bouquet is different. Also our dry sense of humour means we have a lot of laughs together!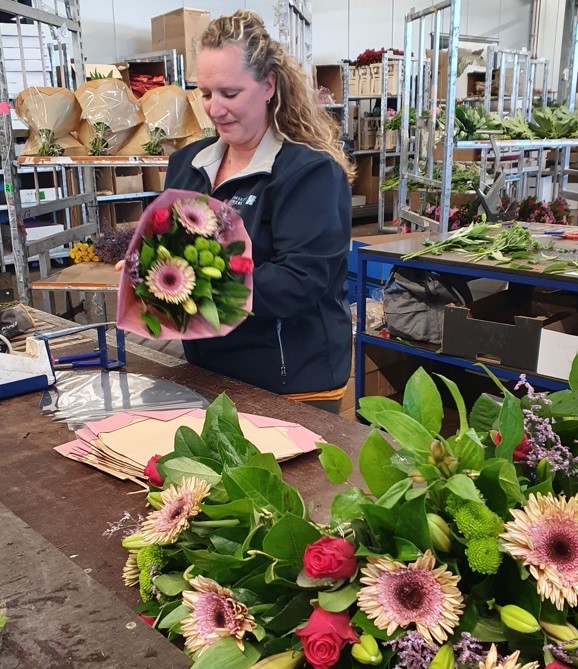 How do you combine your work with running your household?
That's really very easy at Heemskerk Flowers. Because my husband is away a lot because of his job as a sailor, I want to be there for my two children. For a long time, I started work at 9 in the morning so that I could take my children to school myself. Then I worked until around 3, so I was at home again for my kids in the afternoon. It was great that I could do that! Now my children are a bit older and more independent, I start work at 7 in the morning. I always call my kids at around 8 to check that the dog has been let out and fed, that their bags are ready etc. It's great that that's an option.
What do you like to do in your spare time?
My children have been boxing at a boxing club for a while. During a parent and child day I had the opportunity to box as well, and haven't stopped since - it's a great sport! I also shoot.